Sokoliki potwierdzają swoją wysoką formę
Kolejne zawody i kolejne medale dla UKS Sokolik. Tym razem Sokoliki wystartowały w zawodach o Puchar Polski w Lubieszowie  w woj. Opolskim i zdominowali tamtejsze zawody zajmując czołowe miejsca, ale to jest już ich domena.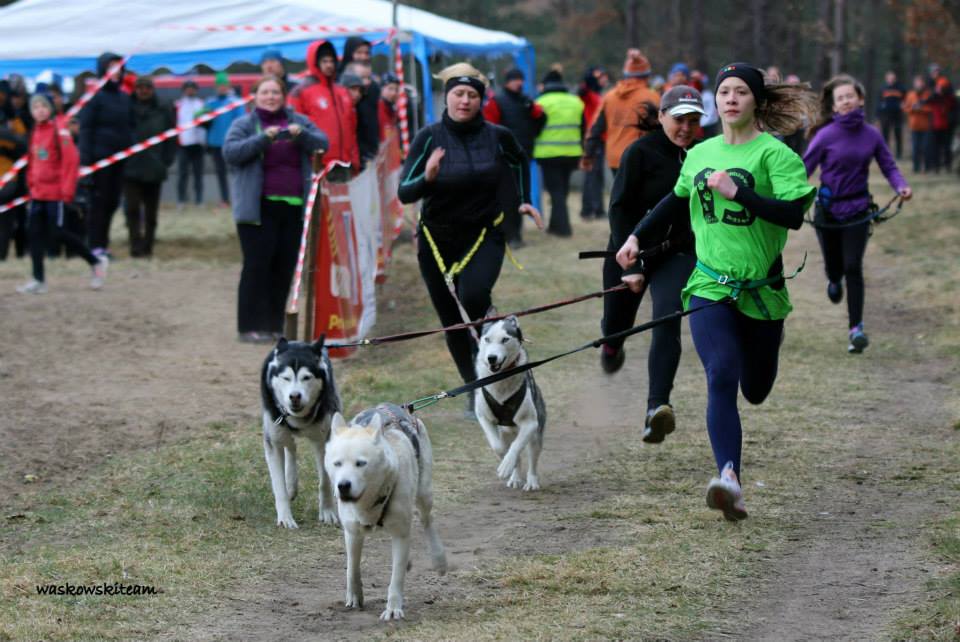 W miniony weekend 22 i 23 marca 2015 roku odbyły się zawody o Puchar Polski w miejscowości Lubieszów w woj. Opolskim.  Organizatorami byli członkowie klubu "Cze-mi".
Tym razem  maszerzy spotkali się  na XIII  Lubieszowskim Cross, do pokonania były  nasze leśne trasy, rywalizowano na trasach klasy : A, B, C, D, CC, BJ, SC, HAPPY DOG oraz Rollpulka.
Spotkaniu towarzyszył marsz  nordic wal king już dla wszystkich, który po raz trzeci zagości w Lubieszowie oraz w biegi  integracyjne dla dzieci, a po popołudniu mecz piłki nożnej.
Organizatorem przedsięwzięcia jest Gmina Bierawa oraz Sekcja Sportów Psich Zaprzęgów CZE-MI "Odrzanka" Dziergowice pod patronatem Wójta Gminy Bierawa
Pierwszy dzień dostarczył wiele wrażeń. Większość uczestników pomyślnie ukończyła bieg i zadowoleni dotarli na metę. Znaleźli się również tacy, którzy mieli problemy na trasie i nie ukończyli biegu, jednak wszyscy wrócili do domów zadowoleni – mówią członkowie UKS Sokolik Dziękujemy przede wszystkim naszym czworonożnym pupilom bo to razem z nimi odnosimy te sukcesy. Dziękujemy również naszym rodzicom, sponsorowi Nakarm Pupila z Bielska Białej, Gminie Kalwaria Zebrzydowska, rodzicom, opiekunom, fotografom
Canicross – Oficjalna dyscyplina sportowa należąca do grupy sportów psich zaprzęgów. Polega na bieganiu z psem upiętym na smyczy z amortyzatorem (długości ok 2,5 w rozciągnięciu), łączącej się z pasem na talii maszera. Pies biegnie przodem pomagając tym samym w biegu zawodnikowi. Wyścigi tej dyscypliny odbywają się w warunkach bezśnieżnych.
Juniorzy UKS Sokolik w kategorii Canicross po dwóch dniach zmagań zajęli następujące miejsca:
Monika Byrgiel 1 miejsce
Kacper Chrostek 1 miejsce
Dawid Paluch 2 miejsce
Julia Talapka 2 miejsce
Kinga Baran 3 miejsce
Patrycja Opyrchał 3 miejsce
Kinga Pamuła 4 miejsce
Kinga Słonina 4 miejsce
Seniorzy w CC:
Weronika Jurek 2 miejsce
Bartłomiej Chotowicki 2 miejsce
Karol Paluch 3 miejsce
Mateusz Paluch 4 miejsce
W SC1:

W BJ:
Justyna Nowroth 6 miejsce i 1 miejsce w (NB)
Kamil Ogiegło 12 miejsce
W D0:
Jakub Skrzyński 5 miejsce
{Foto: UKS Sokolik} {TomBalu}