Marka "Mebel z Kalwarii Zebrzydowskiej"
Meble z Kalwarii kojarzą się z tradycją, solidnością i wysoką jakością wykonania. Właśnie te atuty chcą pokazać  rzemieślnicy z Kalwarii, którzy nie tak dawno z Urzędu Patentowego otrzymali potwierdzenie, że przyjęto ich wniosek o udzielenie prawa ochronnego na znak towarowy  "Mebel z Kalwarii Zebrzydowskiej".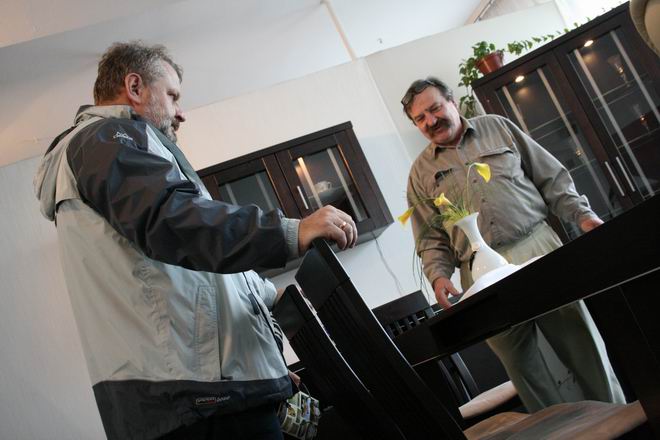 Prawo do używania znaku towarowego w pierwszej kolejności będą mieć rzemieślnicy zrzeszeni w Cechu Rzemiosł Różnych w Kalwarii Zebrzydowskiej, obecnie organizacja ta zrzesza 230 członków. Większość z nich prezentuje swoje wyroby na stoiskach handlowych w dwóch budynkach Domu Rzemiosła w centrum miasta. Otrzymanie takiego znaku to sporo korzyści ale i obowiązków.
Stolarze, którzy wyjeżdżali poza Kalwarie Zebrzydowską  spotykali  się często z nieuczciwą konkurencją. Zaobserwowali oni, że w różnych miejscach sprzedaje się meble określając je jako te z Kalwarii Zebrzydowskiej, a tak naprawdę z Kalwarią nie maiły nic wspólnego. I miedzy innymi takie zjawisko pobudziło ich do działania by chronić swoją markę.

Rzemieślnicy chcą wprowadzić i promować swoją markę na lokalny rynek i tym samym umocnić jego pozycje, stawiają na jakość. Chcą  też chronić lokalny rynek przed zalewem importowanych mebli głównie z Azji.
Do Cechu wpływają już pierwsze wnioski o udzielenie prawa do używania znaku towarowego. Komisja złożona z rzemieślników będzie oceniała meble głównie ich jakość i solidność wykonania. Dodatkowych opłat z tego tytułu nie będzie.
Gdy zostaną spełnione wszystkie kryteria producenci otrzymają prawo do posługiwania się marką "Mebel z Kalwarii Zebrzydowskiej" ich meble otrzymają jedyny i prawnie chroniony znak towarowy, a na ich meblach pojawi się specjalna tabliczka.
"Prace nad tym by otrzymać prawo do używania takiego znaku rozpoczęły się w 2009 roku. Początkowo była to nazwa Mebel Kalwaryjski, ale podczas kilku spotkań z rzemieślnikami i władzami miasta uznaliśmy by użyć nazwy Kalwaria Zebrzydowska, aby ten produkt był kojarzony jeszcze lepiej z tym  miejscem" – tłumaczy Elżbieta Sępek.
Gdy dojdzie do nieuczciwej konkurencji i przykładowo w centralnej Polsce ktoś będzie sprzedawał swoje wyroby  jako  "Meble z Kalwarii Zebrzydowskiej",  nie posiadając znaku towarowego musi się  liczyć się z konsekwencjami finansowymi idącymi w tysiącach złotych.
"Jesteśmy organizacją, która musi chronić rodzimego rzemieślnika. A tymczasem firmy spoza Kalwarii Zebrzydowskiej korzystają ciągle na naszej marce. Teraz takie działania konkurencji będą prawnie zabronione. Nasi klienci kupując  produkt oznaczony jako Mebel z Kalwarii Zebrzydowskiej będą   mieć pewność, że kupili rzeczywiście jakość i tradycje" – mówi Stanisław Pępek Starszy Cechu w Kalwarii Zebrzydowskiej.
Znak towarowy, który niedawno  otrzymali to nie jedyne ich działania by konkurować na rynku, przygotowują kampanie reklamową, zapowiadają szkolenia z technik sprzedaży, zastanawiają się nad nową formułą Targów Meblowych. Czasy świetności kalwaryjskie rzemiosło ma już dawno za sobą, jednak nowej rzeczywistości się nie poddają.
{TomBalu}